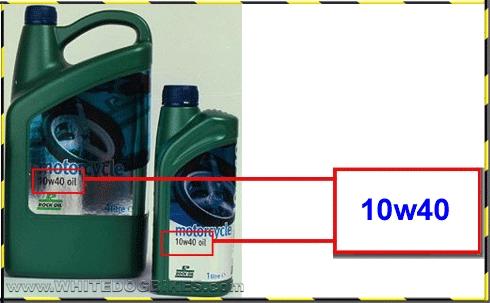 SAE (Society of Automotive Engineers) Grades
10w = This is a grade for the weight (or thickness) of the oil at colder ('winter') temperatures.
To get this grade, the weight of the oil is tested at 0°F
40 = This is a grade for the weight (or thickness) of the oil at hotter temperatures. To get this grade, the weight of the oil is tested at 200°F
Please note – The example used (10w40), can also be shown as 10/40 and 10w-40. These are all the same grade (it's just some people prefer to write it differently!)
Number

10w

40

Meaning
Defines the viscosity (thickness) of the oil at it's coldest operating temperatures.
This first number is used to show the viscosity of the oil used in an engine during winter when starting the vehicle from cold. The 'w' stands for 'winter'.
Different countries often require different grades of oil, depending on how warm or cold the winters are. e.g. 10w40 is often used in the U.K, where as a country that has harsher or colder winter might use a 5w40 weight oil. The oil viscosity or weight for cold temperatures is tested at 0°F. Generally speaking, the higher the number, the thicker the oil
This is the number or grade that defines the oils viscosity or thickness at higher operating temperatures.
The oil viscosity or weight for hot temperatures is tested at 200°F.