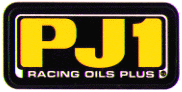 PJ1 Motorbike Oils
Address: 8747 East Via De Commercio, Scottsdale, AZ 85258-3328
Website: www.pj1.com
Phone: 480.991.3137 x5000
About PJ1
For over 35 years PJH Brands (the parent company of PJ1)have passionately innovated and constantly inproved their products to help the worlds bikers and motorsport enthusiasts go higher, faster, farther and last longer than ever before.
PJH Brands set the standards for durability, rust and corrosion control, extreme weather protection, chemical resistance, high temperature tolerance and chain lube.
Their advanced formulas have even played their role in the development of the US Air Forces Stealth Fighter, NASA's Space Shuttle, the B-2 bomber and just about every satellite circling the globe.
PJ1 Products
Product name
Description
Premix Oils
PJ1 GoldFire Pro Premix Oil
Attributes:
Formulated for very high RPM conditions
Minimizes engine wear
Extraordinarily clean burning
Keeps reed valves free of residue and operating at their peak performance
Originally developed in conjunction with Kenny Roberts' Grand Prix road race team under race conditions
Can be mixed up to 50:1
Racing grade synthetic pre-mix
PJ1 SilverFire Premix Oil

Semi-Synthetic Two-Stroke Pre Mix Oil
Attributes:
Competition grade semi-synthetic blend
Great for sport riding
Keeps reed valves free of residue and operating at their peak performance
Offers professional level protection at a competitive price

Injector Oils
PJ1 SilverFire Scooter Injector Oil
Synthetic Blend Scooter Two-Stroke Oil
Attributes:
Matched to the demands of smaller engines
High performance semi-synthetic blend
Great for non-competition riding use
Offers professional level protection at an amateur level price
PJ1 SilverFire Injector Oil

Synthetic Blend Two-Stroke Injector Oil
Attributes:
Specially formulated for injector applications
Performance semi-synthetic blend
Great for competitive use
Offers professional level protection at an amateur level price

Motor Oils
PJ1 Goldfire Motor Oil
Racing Grade Motor Oil
Attributes:
High performance semi-synthetic blend
Single or multi cylinder applications
Formulated with anti-shearing agents and friction modifiers for wet clutch applications.
Meets or exceeds API SG and JASO MA
Good for motors with wet or dry clutches.
PJ1 SilverFire Premium

Premium Recreation Grade Motor Oil
Attributes:
Meets or exceeds API SG, JASO MA
Low coefficient of friction increases power and engine efficiency
Shear stable viscosity improver protects against viscosity breakdown
Keeps engine clean and protects against varnish and sludge formation
Offers professional level protection at a competitive price level
Multi-grades provides full protection in all climates and conditions

Gear Oils
PJ1 Clutch Tuner Gear Oil
For Non-Motor Oil Wet Clutch Applications
Attributes:
Formulated for competition use
Transmission Oil for 2 stroke and 4 stroke motors with separate transmissions/clutch assemblies
Available in two weights
PJ1 Drive Shaft Hypoid Gear Oil

For Touring/Cruising Drive Shaft Motorcycles
Attributes:
High performance lubricant for drive shaft systems
Designed for the needs of large displacement touring/cruising motorcycles

Suspension Oils
PJ1 Fork Tuner Oils
For Upgrading and Adjusting Fork System
Attributes:
High Viscosity Index (HVI) fork oils formulated to provide consistent performance over a wide temperature range.
An effective and inexpensive method to tune conventional fork compression and rebound without hardware modifications
Accommodates different rider weights and conditions
Contains anti foam agents to prevent aeration and maintain predictable compression and rebound in a challenging environment
Additives maximize fork seal performance
PJ1 Cartridge Pro Fork Fluid

For High Performance Suspension
Attributes:
Meets or exceeds OEM specifications for Showa and Kayaba cartridge/twin chamber forks
Improves damping and rebound action of all conventional and inverted cartridge fork units. PJ1's Ultra High Viscosity Index formula far exceeds all OEM specifications for a noticeable improvement in suspension response and handling, translating to better lap times
Contains special additives that reduce stiction by controlling seal swelling, providing a smoother more sensitive response from the forks
Will not fade or change viscosity due to hot or cold climates nor break down like other cartridge fork oils

Performance Fuel Additives
PJ1 Octane Plus
Octane Booster and Fuel Stabilizer
Attributes:
Increases fuel octane
Stabilizes fuel
Increases horsepower
Lead substitute for engines requiring leaded fuel
Reduces Knock and Ping
Alleviates dieseling
Helps prevent gas line freeze-up
For 2 and 4 stroke engines
PJ1 Fuel Injector and Carb Cleaner
Fuel System Cleaner and Treatment
Attributes:
Keeps injectors/Carburetors at peak performance for smooth and consistent power
Removes fuel deposits and petroleum debris
Safe for all leaded, unleaded and oxygenated fuels
For 2 and 4 stroke engines
Chain and Cable Lubricants
PJ1 Black Label Chain Lube
Optimized for Standard Chains
Attributes:
Penetrates deep into the chain
Lubricates pins, rollers, side plates, and sprocket
Reduces chain stretch and the requirement for frequent adjustments
Has a memory to bounce back to absorb the shock that other chain lubricants can't
Protects chain against the elements
PJ1 Blue Label Chain Lube
Optimized for O-Ring/X-Ring Chains
Attributes:
Clear formula won't fly off
Has a memory that bounces back to absorb chain lash
Reduces chain stretch and the requirement for frequent adjustments
Lubricates between roller and sprocket
Preserves O-Rings
Can also be used on standard chains
PJ1 Cable Lube

Cable Lubricant
Attributes:
Makes cable controls easier
Extends cable life
Cleans and lubricates
Easy to use

Penetrating Oils
PJ1 LPC-30 Penetrant/Lubricant

Super Rust Busting Penetrating Lubricant
Attributes:
Aggressively penetrates to increase efficacy
Multipurpose lubricant
Super rust buster
Protects metal

Assembly Lubes
Assembly Lube

Engine Assembly Lube
Attributes:
Aerosol package for quick, easy application
Synthetic and petroleum oil soluble
For crank shafts, valve guides, cylinder walls, pistons, cam shafts, etc.

Filter Oils
PJ1 Foam and Filter Oil
Enhances The Effectiveness of Foam Filters
Attributes:
Available in liquid and aerosol package for quick, easy application
Petroleum and synthetic Oil soluble
Fabric Air Filter Treatment

Enhances Efficacy of Fabric Filters
Attributes:
Filters airborne debris to protect your engine
Easy to use – no waste
Water proof

Cleaners
PJ1 Super Cleaner
Multi-Application Non-Residue Degreaser
Attributes:
High pressure blasts
Powerful solvents melts grease and grime away
Dries quickly
Leaves no residue
PJ1 Filter Cleaner
Cleans Foam and Fabric Filters
Attributes:
For foam and Fabric Filters
Easy to use: Spray on – wash off
Won't harm glues
PJ1 Brake Cleaner
Professional Power Brake Cleaner
Attributes:
Powerful spray
Cleans and degreases contaminants from brake units
Evaporates quickly and leaves no residue
Improves braking performance
PJ1 Carb and Choke Cleaner
External Carburetor and Throat Cleaner
Attributes:
Powerful Spray
Quickly cleans and frees valve, injector jets, and linkages
Not harmful to rubber, vinyl or neoprene
PJ1 Spray and Wash
Aggressive Degreaser and Cleaner
Attributes:
Rinses off with water
Save on plastics
Leaves no film or residue
Has pleasant fragrance
PJ1 Contact Cleaner
Professional Contact Cleaner
Attributes:
Powerful Spray
Removes Carbon and contaminants from plugs, points, and electrical components
PJ1 Renew and Protect
Non Oily Surface Treatment
Attributes:
Unique, super silicone formula provides a penetrating moisturizer
Restores original appearance
Leaves satin not glossy finish
For rubber, vinyl, plastic, wood and treated leather.
DISCLAIMER
Please Note…
The information contained within this page has been taken directly from the oil manufacturers websites and/or advertising material. The opinions expressed within these pages are not the opinions of White Dog Motorcycle Accessories.
If you have used PJ1 products and would like to leave a review, please use the comment box below…